Breast Size Is Important To Many Women.
Breast augmentation enlarges a woman's breasts through the surgical placement of breast implants. In general, it is a cosmetic procedure strictly performed to fulfill your personal desire for fuller breasts or to restore breast volume lost after weight reduction or pregnancy. Implants may also be used for reconstruction purposes to restore a breast that is lost due to mastectomy, injury or for other reasons. In any case, breast implants allow women the choice of fuller, natural appearing breasts and a more balanced figure.

Breast augmentation does not however correct sagging breasts. In cases where a woman desires to enhance breast fullness and at the same time improve the position and shape of sagging breasts, a lift may be performed in conjunction with breast augmentation.

Saline vs. Silicone Gel Implants:
The FDA has approved the use of silicone gel implants for cosmetic breast augmentation. There are advantages and disadvantages to both saline and silicone gel implants. There will be a thorough discussion of which type of breast implant is best for you at the time of your consultation.

Where Do I Begin?
A consultation with Dr. Novotny is the first step to learn how breast augmentation can enhance your breasts' appearance and improve your body image. A consultation is designed to fully educate you about breast augmentation in a non-pressure environment and will include:

A discussion of your goals and an evaluation of your individual case
The options available in breast augmentation surgery
The likely outcomes of breast augmentation and any risks or potential complications
The course of treatment recommended by Dr. Novotny
Dr. Novotny will also answer any of your questions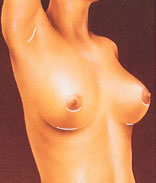 BREAST AUGMENTATION: Incisions are made to keep scars as inconspicuous as possible, in the breast crease, around the nipple, or in the armpit. Breast tissue and skin is lifted to create a pocket for each implant. After surgery, breasts appear fuller and more natural in tone and contour. Scars will fade with time.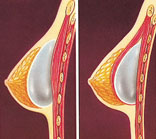 The breast implant may be inserted directly under the breast tissue or beneath the chest wall muscle.