What Is A Breast Lift?
Breast lift, technically called mastopexy, is surgery to uplift and improve the shape of a female breast that:

Sags or is pendulous, but is proportionate with the body frame

Has lost firmness and skin elasticity

Has a flatter, elongated shape

When unsupported, the nipple falls below the breast crease

Has a nipple and areola ( the pigmented skin surrounding the nipple ) that point downward

Has stretched skin and enlarged areola

A breast lift is appropriate for women who wish to improve breast shape and position. When an increase in breast volume is also desired, breast implants may be inserted in conjunction with a breast lift.

Where Are The Scars?

Scars may be limited to around the areola only, or may include vertiacal

or horizontal scars as seen on the right.

The degree of sagging influences the length and location of scars.

The use of breast implants may reduce the length of your scars.

Where Do I Begin?
A consultation with Dr. Novotny is the first step to learn how a breast lift can enhance your breasts' appearance and improve your body image. A consultation is designed to fully educate you about breast lifts in a non-pressure environment and will include:

A discussion of your goals and an evaluation of your individual case
The options available in breast lift surgery
The likely outcomes of breast lift and any risks or potential complications
The course of treatment recommended by Dr. Novotny
Dr. Novotny will also answer any of your questions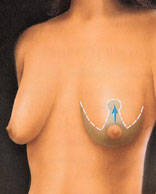 BREAST LIFT: Incisions outline the area of skin to be removed and the new position for the nipple.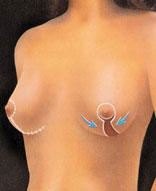 Skin formerly located above the nipple is brought down and together to reshape the breast. Sutures close the incisions, giving the breast its new contour.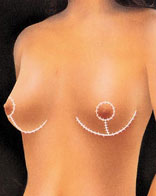 After surgery, the breasts are higher and firmer, with sutures usually located around the areola, below it, and in the crease under the breast.