What Is A Facelift?
A facelift, technically called rhytidectomy, is a surgical procedure to improve visible signs of aging in the face and neck.

Sagging in the mid face can create a deep crease below the lower lid ( called a tear trough ) and between the nose and mouth ( nasolabial fold ) that may make you appear tired and sad. Fat that has fallen or is displaced and loss of muscle tone in the lower face may create jowls ( a jaw line that sags into the neck ). Loose skin and excess fatty deposits under the chin and jaw can make even a person of normal weight appear to have a "double chin".

A facelift is designed to correct all of these aging features, restoring a more youthful, rested appearance with uplifted contours and improved ton in facial skin and underlying muscle. Where desired improvement can be isolated to the mid facial region and where excess skin is less a factor, a limited incision lift may be an alternative to a traditional facelift.

As a restorative surgery, a facelift does not change your fundamental appearance and cannot stop the aging process. Although you will continue to age naturally, aging will progress from the more youthful version of yourself that has been restored by a facelift. Rejuvenation procedures typically performed in conjunction with a facelift are brow lift, to correct a sagging or deeply furrowed brow, and eyelid surgery to rejuvenate aging eyes.

Where Do I Begin?
A consultation with Dr. Novotny is the first step to learn how a facelift can improve your aging face and neck. A consultation is designed to fully educate you about a facelift in a non-pressure environment and will include:

A discussion of your goals and an evaluation of your individual case
The options available to you

for facelift

and facial rejuvenation
The likely outcomes of

a facelift

and any risks or potential complications
The course of treatment recommended by Dr. Novotny
Dr. Novotny will also answer any of your questions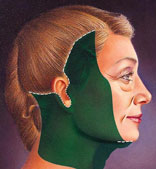 Incisions usually begin above the hairline at the temples, follow the natural line in front of the ear, curve behind the earlobe into the crease behind the ear, and into or along the lower scalp.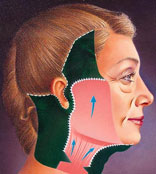 Facial, neck tissue and muscle may be separated; fat may be trimmed or suctioned and underlying muscle may be tightened.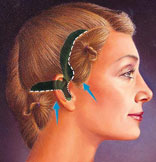 After deep tissues are tightened, the excess skin is pulled up and back, trimmed and sutured into place.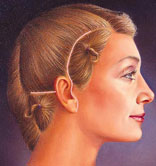 Most of the scars will be hidden within your hair and in the normal creases of your skin.